It's back!!!
-
2021-2022 WINTER WARRIOR
Prior years' Winter Warrior postal matches were great fun for me and hopefully for many of you as well. Let's do it again!
Iron sight military rifles only this time.
If anyone wants to run a pistol / other type of match, I highly encourage you to do so. Part of the fun of this is seeing how different rifles perform on the same targets under same or similar conditions.
Rules:
To win fabulous prizes (LOL), entrant must be a NES green member.
Qualifying winter weather =

snow cover on the ground and/or below freezing weather.

Pile of snow somewhere on the range or range parking lot is good enough for me.
Iron sight military rifles only, in original military calibers. Anything from a Brown Bess to an AR or AK, but must be iron sights. Since stupid CMP now allows free-float AR's, they are OK for this match if you are a wuss. Kidding. OK, not really kidding .
10 shots per target. Any shot completely off paper? Take it as a mulligan- we won't know!
Target will be the SR-1 'reduced' SR target shot at 100 yards. Alternately, you may submit a SR target from 200 yards and/or official scorecard from a CMP match. I'll post a link to a printable SR-1 'center' that prints out on 8-1/2 x 11 paper. SR-1 target centers are cheap and printed centers are free.

Let's please not clutter the match with random targets.

Preferred shooting position is prone but I completely understand if you have any physical limitations that require you to shoot from the bench. You don't even have to mention that you shot from the bench. No lead sleds or gun vise clamping type of devices. Sand bags or other type of rest OK, but why not shoot like a boss? (prone with sling)

Winner of fabulous prizes will be determined by random drawing. Each SR-1 or SR target pic submitted gives you one entry

. You may enter as many times as you like to increase your chances. Top score will win bragging rights and title of NES Winter Warrior.

Each initial entry must include a pic of rifle used

.

Follow up targets with the same rifle don't need another rifle pic. I'm sure we would all like to know the history of your rifles and little about the loads you shoot. Hey, it's winter and we need moar cool stuff to read about!
That's it for now. If you have any cool 'Winter Warrior' pics, please post 'em! If anyone has trouble posting pics please ask for help.
Here's a link to a printable SR-1:
NRA SR-1 Target | Bison Ballistics
Update 12/17/2021
.
I think for fabulous prizes 2021/22 I'll send the winner a
$75 Brownells gift card and throw in a surplus bandoleer + NOS enblocs
for M1 rifles. One entry per rules compliant target (or CMP scorecard) posted, winner selected via random drawing. Top scores for bragging rights, which of course on NES are priceless.
Crappy weather, so something to sweeten the pot and add some cheer- additional 'fabulous' LOL prizes: 2 sleeves (200) of CCI small rifle primers and 1 sleeve (100) of CCI Large Rifle Primers. Who knows- these could be worth millions by the end of Winter Warrior! There's a small catch- if you want the primers you have to pick up the prizes either in the Wachusett Mountain or Worcester area, or alternately in April when I'm at an Old Colony match.
*************************************** **************************************
Nights in N Central Mass are starting to feel nice and cool. Before we know it those freezing temps and snow will be back, and we know what that means- Winter Warrior!
Just a head's up to the forum: As this match has become highly competitive and there's a big temptation to take performance enhancing drugs, the winner will be required to send a pee sample to:
24 Beacon St, Boston, MA 02133
Something to whet appetites for winter shooting conditions-
The 10th Mountain Division: WWII's High-Altitude Heroes - Tahoe Quarterly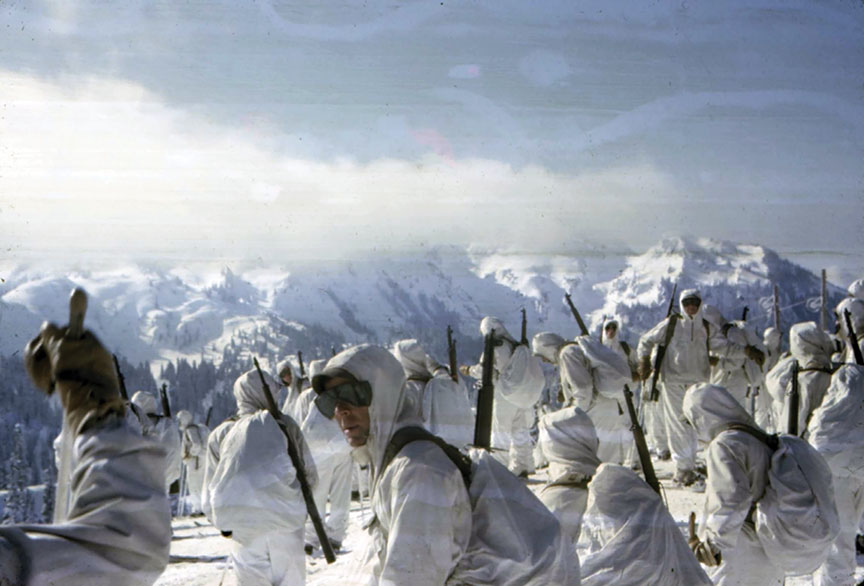 Last edited: