Joined

Dec 29, 2005
Messages

576
Likes

171
Location
ETA on 12/10 - might consider partial trades. Interests include: FN 509 (preferably tactical model), pre lock S&W wheel guns, Marlin 39 w/octagonal bbl. Hell..... if you have something to offer up try me... worst I can do is say no thanks.
Holy CRAP!!! WTF is with ammo prices????
(Even better .... over 4k views and this gem is still posted???? ) Price drop 10/16
Precisely why you shouldn't waste the explosive power of any precious sparkling brass buddies pissing them down range with a rifle you can't hit s##t with.
That is why you NEED to buy this rifle. But you as a shrewd buyer might ask…… there's a gazillion overpriced AR's on the board right now…. What makes this one so special????
Glad you asked cuz here's the details:
Lets get this right out there as well....
Location: Western MA - Rt 91 area.... yes where the freaking buffalo roam free.... yessir, that means past 495.... where the other 251ish towns in our Commonwealth are located. Buyer expected to meet in WMass.
Lower Details: post '94 but was complete rifle many years before latest AG interpretations.
Started as stripped lower, built as below for maximum pleasure.
Lower: Stag brand … from good old CT S/N 11####, Model STAG-15, picture of antlers included!!
Trigger: one piece drop in Velocity brand (I forget if it's 3 or 4# but regardless it's freaking AWESOME)
Velocity Drop-In Trigger For Your AR (Designed for Precision) (simplytriggers.com)
Stock: Magpul PRS, adjustable cheek and length --- (if you can find one)
Magpul Stock PRS GEN3 Precision Rifle Adjustable AR-15 LR-308 (midwayusa.com)
Grip: Magpul MIAD – no finger grooves, just flat for business – feed your inner monster at the range and store your Skittles inside (has cap for 3 rounds)
Safety: Ambi for people who shoot right…. And you righties
Upper Details: I bought upper complete with BCG direct from RRA
Upper: Rock River Arms 18" Stainless Varmint A4 style, unthreaded, no FH. I believe it has a Wylde Chamber. Paid a few $$ extra for the silver (? Nickel boron) complete BCG. Has free floated bbl with solid handguard. IIRC it's 1:8 as it's been a few years since I bought the upper but do remember I was looking for that twist rate. (These need to be ordered...no wait time...priceless!)
Varmint A4 Upper Half (rockriverarms.com)
Scope: Vortex VIPER HS 4-16x44 mm with Deadhold BDC reticle. GREAT FREAKING glass, brings vision to the blind. Also have box and all extras. With Butler Creek flip caps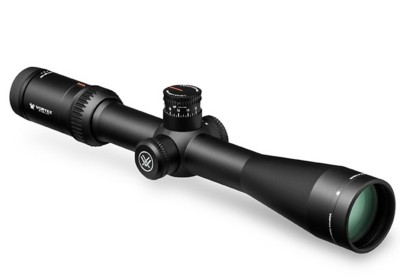 The Vortex Viper HSLR 4–16x44 Dead-Hold BDC Riflescope is built for long-range accuracy. The Viper HSLR is optimized for dialing in at extended ranges. SCHEELS
www.scheels.com
Scope Mount: GG&G Accucam quick release Scout length mount ($160)
Quick Detachable Scope Mount / Rings - Scout Length Scope Mounts (gggaz.com)
Scope Rings: unknown but still bitchin'
I pretty much put this together to be my accurate fun gun. 18" bbl still short enough to move around if I ever ventured into coyote country. Shoots great and I'd be surprised if I put 300 rounds through it. When I started shooting match ammo and then began reloading, I ended up using my bolt action and this one just sat. Never even ended up dialing in best factory load. Nothing wrong with it and if it doesn't sell, not doing any harm in my safe.
Aside from some rub marks from safe life, the only blems I found on this are minute and on the chrome bolt. Likely was deliver to me that way and I didn't notice till cleaning time. I put some pix of them, slight imperfections on the surface that I thought was carbon buildup but doesn't "pick" off with dental picks and actually are rough. Doesn't interfere with function at all, nor are there any imperfections or evidence of damage when it matches to the BCG (also tried to do pix).
Price: $1900 (price drop from $2100 8/10) Best part... no FFL fees, shipping or taxes to pay for your favorite politicians salaries..... pure eFA-10 goodness. Too heavy to ship. Not really looking for trades I've got to thin the herd, you can offer things up as I might have moment of trade weakness but .....
Location: Western MA - Rt 91 area.... yes where the freaking buffalo/deer/goats roam free.... yessir, that means past 495.... where the other 251ish towns in our Commonwealth are located. Buyer expected to meet in WMass.
All laws to be followed.
Statement of Legal compliance:
I will comply with all Federal and State Laws. If the firearm is to be shipped, you must provide me with a signed copy of your dealer's FFL (or your 03FFL if this is a Curio and Relic). For private party face-to-face transactions (only permitted by Fed law when both buyer and seller live in same state), I will meet all applicable state and federal laws.
Last edited: